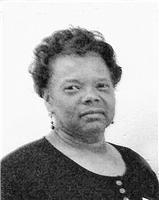 Diane Noble Haith
BURLINGTON – Ms. Diane Noble Haith, 61, of 5544 NC Hwy. 62 S., died April 24, 2015 at Hospice Home. She was the daughter of Mr. Mervin Perry Noble and Mrs. Lessie Mae Austin Noble, both deceased. Survivors include a son Tracey Haith (Elenor); two brothers, Rikey Noble and Timothy Noble (Gale); two grandsons, Cody Corbett and Kyndal Haith.
Ms. Haith was employed with Lincoln Financial Group, Greensboro, NC, and a loyal and faithful member of Springdale AME Church.
The funeral will be held Tuesday April 28, 2015 at 2 pm at Springdale AME Church. The family will receive visitors one hour prior to the services at the church on Tuesday and other times at the residence. Public viewing will be held on Monday from 1-9 pm at the funeral home. The burial will be in the Church Cemetery.
Email condolences may be sent to sharpefuneralhome.com Support and services for the Haith Family are provided by Sharpe Funeral Home, Inc